I have been a fan of yaoi since a long time. Fanfics that I read are also mostly yaoi as well. But more than everything else I love to watch Thai BL (Boy's Love) dramas. I have tried BL dramas from all over the world and honestly speaking, Thai dramas are the best. There are some American rip-off sorts too, but most that I have seen are forever etched in my heart and I would watch them once again. So here is a list of the 5 MUST- WATCH THAI BL dramas.
SPOILER ALERT
SOTUS the series-
SOTUS was the second BL drama I watched after Addicted (Chinese BL), which was my first. I found this drama when a lot of BL fans started posting images of the leads, and I do not regret my decision to watch the drama. With a proper storyline and a beautiful cast with proper actors and a BL that hasn't been banned, it was a treat.
Based on a Thai internet novel written by BitterSweet having the same name- the story is about Arthit(

Perawat Sangpotirat

), a third year student in an Engineering college and his batch mates abuse their power over the juniors to make them follow and teach them the lesson of SOTUS (Seniority, Order, Tradition, Unity and Spirit). Kongbop(

Prachaya Ruangroj) was one of the first students who started protesting against the rules. Soon he realized his hatred towards Arthit had turned into respect and love.
Everything about the drama is perfect except for the story, which I think could have been slightly better. There are a lot of fangirl moments and two kiss scenes as well in the end of the drama.
Make It Right the series-
This is a high school drama with a very fresh story-line. It casts talented young actors and there are many couples, both straight and gay.
Tee(
Panichtamrong "Peak" Peemapol) and Fuse(
Udompanich "Boom" Krittapak) were long time friends. One day Fuse finds out that his girlfriend is cheating on him and hence he becomes sad and ends up drinking. He meets Tee after a long time in the drunk state and hence Tee ends up taking him home with him. Both get curious as to how does it feel to have sex with a guy and they end up having sex. After that it leads to the confusion whether they are in love or not. Fuse, to be honest, is the most confused character I have seen.
Apart from Tee and Fuse, there is another and a sweeter couple to check out and that is Frame (
Chittsawangdee Pawat) and Book (Imerbpathom Sittiwat). Their relationship is too adorable.
The storyline, although fresh, is a bit messy, but then it doesn't bother much. Book and Frame make up for all of it.
2 Moons the series-
2 Moons the series just got over and I am telling you, I am still suffering from End-Of-Drama syndrome. This drama was plain amazing. Amazing cast, jaw-dropping visuals, perfect acting and a perfect story-line.
Wayo(Pinnirat Suradej) gets admission into the same university as his high-school crush and long time love Phana(Thanit Itthipat). Phana is the present Campus Moon of the University and extremely famous. Wayo is put into a list of people to contest for the position of the next Campus Moon. Soon he gets to see Phana more and Phana starts teasing Wayo, which annoys him. But then their relationship takes a turn to the better.
Apart from Phana and Wayo, there is another couple- Ming(Khemmonta Varodom) and Kit(Kerdthongtavee Panuwat), where Ming is Wayo's best friend and Kit hangs out with Phana. Ming starts crushing on Kit. In the beginning Kit hates it, the way Ming keeps bothering him, and forces himself on him, but then Kit gets used to it. Also we have Forth(Kreepolrerk Darvid) who crushes on cute Wayo for a while and Beam(Jarujittranon Tanapol), who is Kit and Phana's friend.
This drama has a very clean story-line which is clear, without any twisted plots. The way the romance develops is also very beautiful. Phana's way of romance is going to make you cringe and although Wayo looks tiny and weak, he has a really strong character. There is a season 2 on the way with more of Forth-Beam and Ming-Kit, so all fans be on your toes.
Love Sick the series-S1
Love Sick clearly tops the list of BL dramas that I have seen. Again, there is a mix of couples and relationships, but all of them have come out so beautifully, words cannot describe them.
Phun(Phumphothingam Nawat)
has a girlfriend but his father wants him to date a girl who is his father's friend's daughter. Since his father is slightly weaker towards his sister, he tries to please his sister. Now his sister is a yaoi and BL fan, hence he decides to ask his friend Noh(
Kongyingyong Chonlathorn)
to help him out, in exchange for money for the school band. Noh agrees. First they start with pretending, which makes them closer as friends, and then love beautifully blossoms between them.
This drama is hella adorable and serious when it is needed to be. It deals with the confusion the two have where they know well that they are straight, have girlfriends, but still have feelings for each other.
There are other straight couples and it also deals with other high school themes like self- esteem, false image and so on.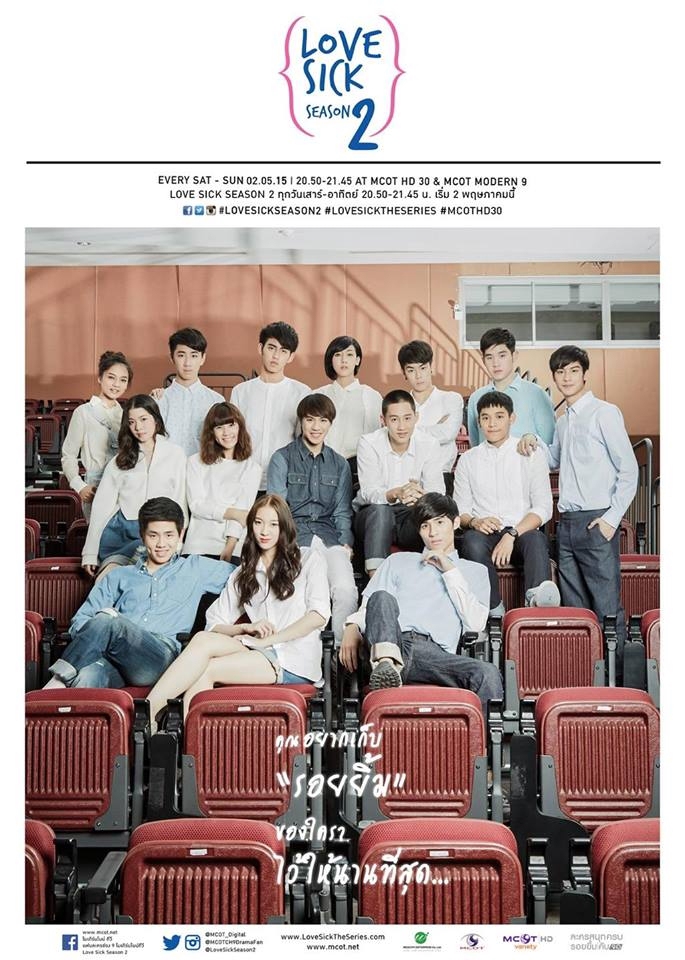 Love Sick the series- S2-
Season 2 is longer and more detailed. We get to know more about Noh and Phun's relationship with their girlfriends. Phun's sister starts liking a guy who is paired with another guy in their school. We see how forced relationships work. Phun's girlfriend starts having affairs. We get to know how Noh and his girlfriend became a couple. More light is thrown on the straight couple where the guy improves as a person but the girl deteriorates. Then they also give a fair chance to the feminine guys in the school, breaking boundaries. Scamming, loyalty, money, friendship of course and many other things are the other themes in the drama. All the issues arised here are solved though.
This season has the ability to make you cry. Scenes where the boys break-up with their girlfriends is extremely heart breaking, although we want the guys to end up together.
New characters are brought to the spotlight- Om(Napian Nanoob) and Mick(Thitipat Min) where Om is a possesive senior and Mick is a weak junior, and the two starts getting feelings for each other without even realizing. Then there is Earn(Luangsodsai Anupart), who falls for Noh's cute behaviour and ends up proposing him, but gets rejected.
This drama is a full package of everything bound in an amazing and interesting storyline. Although it has so many episodes, not a single episode will get you bored. The drama also gives a very important message, and that is we fall for a person for it's nature and not because of his or her sex.
Also it has an amazing track called Shake which have to listen to.
Special mention-
Gay Ok Bangkok- which is a web series made to raise awareness for STDs. It gives out multiple messages about adult gay relationships and also STDs.